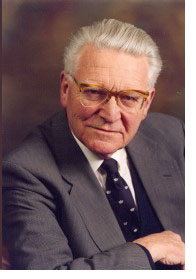 RICHARD TURNER-WARWICK CBE
MSc, MCh (Oxon), DM.(Oxon), DSc.(Hon NY),
FRCP, FRCS, FRCOG, FACS, FRACS (Hon), FACS (Hon)
Born in 1925, Richard Turner-Warwick was educated at Bedales School - at Oxford University and at The Middlesex Hospital Medical School in London. At Oxford he took an honours degree in Natural Science.
He was captain of the Oriel College Boat Club, rowed in the 1944, 1945 Oxford Crews and won the Oxford and Cambridge Boat Race in 1946 when he was President of the OUBC. His MSc thesis was on Neuro-Anatomy.
During his pre-clinical training at The Middlesex Hospital he obtained the Senior Broderip Scholarship and a number of other Medals and Prizes - qualifying in 1949. From 1949 until 1960, mostly at The Middlesex Hospital, he had an unusually extensive specialist training in internal medicine and pathology - and then in abdominal, thoracic, gynecological, and plastic surgery. He trained in urological surgery with Sir Eric Riches and with Sir David Innes Williams at the Institute of Urology in London.
He obtained his FRCS in 1954, his MRCP in 1955, his Oxford Doctorate of Medicine in 1957 and his Oxford Mastership of Surgery in 1962. He was able to visit many urological centres in America as the Comyns Berkley Travelling Fellow - becoming a Senior Resident in Urology at the Columbia-Presbyterian Medical Centre in New York. He was appointed a Consultant General Surgeon to The Middlesex Hospital in 1960 - one of six, with additional charge of the Thyroid Clinic. His outpatient assistant at this time was Deborah Doniach, the pioneer of clinical auto-immunity - her treatment of Hashimoto's lymphadenoid goitre with thyroxine led to its shrinkage so that decompression-thyroidectomy no longer provided the control histological material she needed - it was for this purpose that he developed his trephine biopsy instrument.
He took over the Urological Department at The Middlesex Hospital when Sir Eric retired in 1963. He created a pioneering urodynamic unit as an integral part of his routine clinical service - synchonously combining video-cysto-urethrography with measurement of pressure and flow voiding dynamics.
Since about 1975 he confined his personal surgical interest and practise to Functional Reconstruction - he was additionally appointed to the staff of St Peter's Urological Hospitals in London and also an Honorary Visiting Urological Surgeon to the Royal Prince Alfred Hospital in Sydney in 1978 where he operated for three weeks each year until 1987. His main interest and reputation at that time was in reconstruction of the male urethra.
He was elected a Hunterian Professor of the Royal College of Surgeons in 1977, later serving on the Council of this and also of the Royal College of Obstetricians and Gynaecologists. He was President of the British Association of Urological Surgeons 1982-1984. Among his many distinctions he was given the Victor Bonney prize of the RCOG in 1987, the Valentine Gold Medal of the New York Academy of Medicine in 1991, the Gordon Watson Medal of the RCS in 1992, the Spence Medal of the American Association of Genito-Urinary Surgeons in 1997, the William Didusch award for medical art in 2002, the EAU Willy Gregoir Medal in 2005 ,and the EAU Innovators In Urology Award in 2017.
He was elected to FACS (Hon). in 1997, to FRACS (Hon) in 1981, to elite Fellowship of the Urological Society of Australia in 1988, and the Honorary Fellowship of the American Association of Genito-Urinary Surgeons in 2002. He was awarded an Honorary Doctorate of Science in New York in 1988. During the 40 years between 1965 and 2005 he undertook more than 300 operating surgical teaching visits - mostly in America, Australia, New Zealand but also in Europe and the UK.
He met Margaret in 1944 when they were contemporary medical students at Oxford and they married when they qualified in 1950 - she trained in General Medicine, then in Thoracic Medicine and they had two girls, Gillian Bathe and Dr. Lynn Turner-Stokes. Margaret was appointed to the Consultant Staff of the Royal Brompton Chest Hospital in 1960 and shortly thereafter to the Professorial Chair at the Cardio-thoracic Institute - later serving as Dean.
1989 she was elected President of the Royal College of Physicians, the first lady President in its 450 year history - Dame Margaret Turner-Warwick FRCP, DM (Oxon) Ph.D (Lond) Facad. Med.Sci.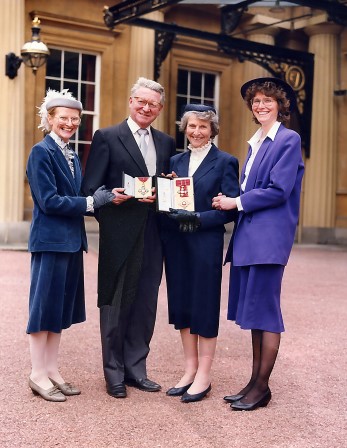 Gillian Bathe, Professors Richard Turner-Warwick, CBE,  Dame Margaret Turner-Warwick and Dr. Lynne Turner-Stokes
The academic careers of Richard and of Margaret are both summarised in Who's Who and also in the citations for their Honorary Fellowships of their respective American Colleges of Surgeons and Physicians.
On September 19, 2020 Mr. Turner-Warwick died leaving behind a legacy that few, if any, will ever match, for he was a blazing sun in a sea of tiny stars. His last gift to Urology was this online book, which he wanted to be free for all to peruse whenever they needed a little help.