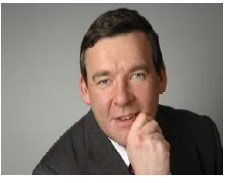 Professor Christopher Chapple is currently Professor of Urology at the Sheffield Hallam University and Consultant Urologic Surgeon at the Royal Hallamshire Hospital in Sheffield, England.

Training:
• 1982-1984 Two-year surgical rotational training scheme, University of Birmingham
• 1984-1985 Registrar in Urology, East Birmingham Hospital
• 1985-1986 Registrar in General Surgery, East Birmingham Hospital
• 1986-1987 Urological Research Fellow, The Middlesex Hospital
• 1987-2001 Senior Register, The Middlesex University
College Hospital, London
• 1998-2002 Director of Research, Central Sheffield University Hospitals
• 1999-2004 Director, European School of Urology Membership of professional bodies
• Adjunct Secretary General - Executive Member responsible for education of EAU
• Society of Genitourinary Reconstructive Surgeons (president)
• International Continence Society (past chairman of publication committee)
• Royal Society of Medicine
• British Medical Association
• American Urologic Association
• Member of the Urological Research Society
• Member of the American Association of Genitourinary Surgeons, etc.
•Editor-in-Chief, Neurourology and Urodynamics
• Over 50 publications in the field of basic sciences and over 100 in the field of clinical science
• Over 80 reviews, several articles in the medical press and 4 books. Research focused on functional urology dealing with investigation of medical and surgical treatment and a long standing interest in clinical pharmacology.
Education
1974-1980

The Middlesex Hospital Medical School

1977

BSc

University of London, Human

Morphology and Evolution

1980

MB.BS.

University of London

1990

MD

Thesis